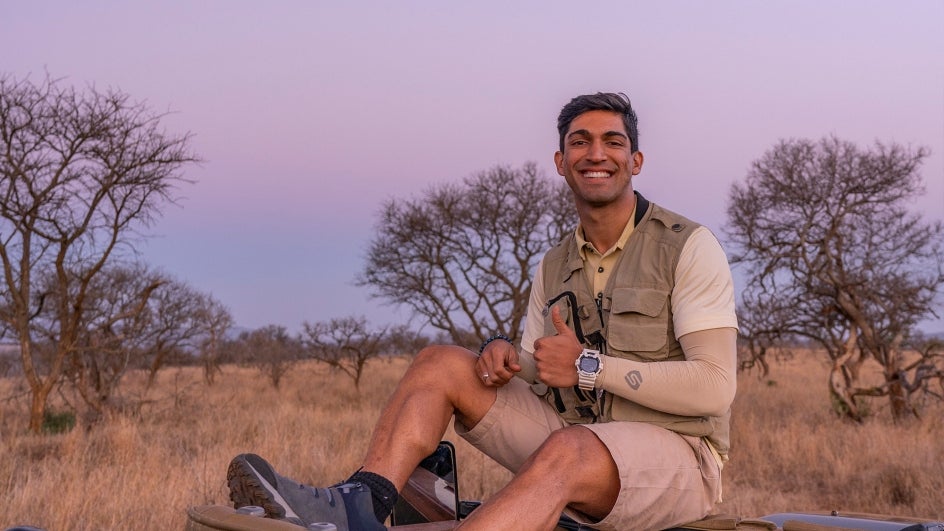 Millennial wildlife presenter launches clothing line to raise money for environmental projects
Suyash Keshari, a 25-year-old wildlife presenter, filmmaker and conservationist, has developed a brand of conservation products that will donate 100% of its revenue to environmental projects. The brand was launched with the aim of raising funds for conservation while enabling individuals to get involved. The program will allow everyone to make a difference, actively contribute to conservation and support fashionable and ethically created products.
"Wildlife has fascinated me all my life. It all started at the very tender age of four, under the influence and tutelage of my late grandfather. What started as a distaste for animals kept in captivity slowly turned into a love and thirst for learning about the last wild places on our planet. It slowly turned into so much more. Now, I tell stories through images that I hope will evoke passion in hearts and minds around the world, and urge them to play their part in conserving our magnificent natural heritage," says Suyash on suyashkeshari.com
The merchandise

Each of the products and their names have a deep and lasting meaning. Merch's inaugural range is named after some of the most significant sites in Bandhavgarh National Park.
The products are carefully coordinated in color according to the topography of these areas. For example, the green drawing depicts the Rajbehra grasslands in the Tala area, which Suyash describes as the stronghold of the tigress Rajbehra, the first tiger he spotted in Bandhavgarh over a decade ago.
Sehra's hat and buff are named after the Sehra grasslands in the Magdhi area, which once housed Solo-Rajbhera's cub, a tigress. The Amelia Leopard is named after the famous waterhole and grasslands of Amelia in the Khitauli area of ​​Bandhavgarh. Other patterns include classic camouflage and a depiction of the elusive Black Panther.
This clothing collection is the result of a labor of love and gratitude, and 100% of the proceeds from sales go to wildlife conservation projects. These include the construction of waterholes in areas of water scarcity in Bandhavgarh National Park.
Suyash and his team had previously organized a conservation project in which they provided solar panels, solar torches and lamps to each of the 175 anti-poaching camps in Bandhavgarh, believing that conservation starts with conservation conservationists. – the rangers who risk their lives every day. to protect our natural heritage. Bags, shoes and raincoats were also given to the more than 200 rangers.
The team released Safari buffs/bandanas for INR 650 and Safari caps at INR 900 in the pilot phase of the project, with free delivery across India. GST will be charged if applicable.