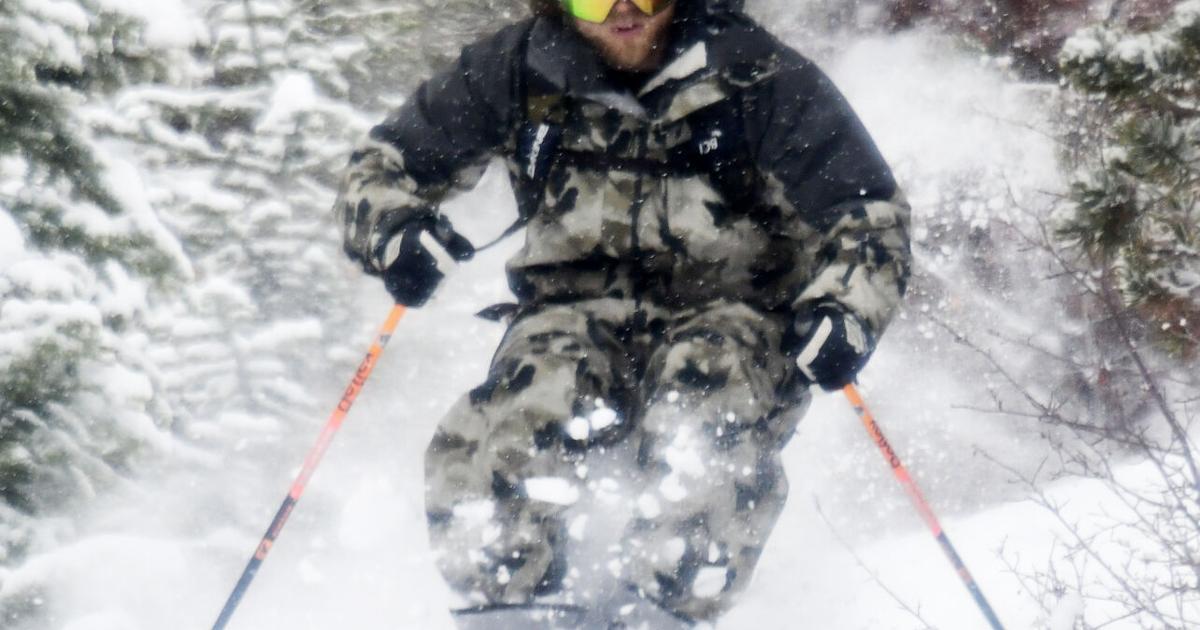 'King' Karl owned 2021 | Mountain sports
[ad_1]
The year 2021 has seen its fair share of bumps and bruises as the world barely clings to this crazy roller coaster ride we call life. And with that there is a person who has conquered trials and embraced triumphs, lending us his heart and leading us with his soul.
So, is it any surprise that we name Karl Fostvedt, the King of 2021, local local and fan favorite, Idaho Mountain Express "Athlete of the Year".
Not necessarily. In our eyes, it was the easiest choice we made all year.
"To be voted by the Idaho Mountain Express 'athlete of the year' is incredible, especially in skiing," said Fostvedt. "I think it's half sport, half art. I am honored and I love this community.
Fostvedt kicked off 2021 by winning Kings & Queens of Corbet's at the legendary Corbet's Corridor in Jackson Hole on February 18, a feat that almost didn't happen for him. Next, he was voted "Best Athlete" of the Valley in the Idaho Mountain Express "Best of" series, which was voted on by his peers and fans. Later that year, he premiered his first ski film "BrapSki — Volume 1" at the Argyros Performing Arts Center in Ketchum.
Life is a roller coaster
Fostvedt's year started with an unexpected low. Returning to Thanksgiving in 2020, Fostvedt was in Rossland, British Columbia, to visit his cousin, Alex Fosvedt. Alex was diagnosed with brain cancer in May 2020 and was going through episodes of chemotherapy. When we needed family, Karl was there.
"It was emotionally difficult to start 2021," Fostvedt said.
Then in January, with COVID-19 raging, Fostvedt unknowingly contracted the disease, which put him in tally for about three weeks. With the Corbet competing around the corner, Fostvedt wasn't sure if he would make an appearance.
"I almost missed my Super Bowl," Fostvedt recalls.
Fostvedt left quarantine on February 14 and traveled to Jackson to register on the arrival date of February 15.
Don't worry: Fostvedt's winning run was a 900 switch-cork to start the descent. He then had a clear run until the last jump, where he completed a colossal 1080.
The purse was a good $ 10,000.
"I won the competition, but you can see the roller coaster," Fostvedt said. "Everything came together. Overall it was one of the best seasons of my life.
Winning Corbet's was an incredible achievement. The competition saw 26 male and female skiers and snowboarders perform double backflips, nose butters, massive methods and the very first wall ride along the rock face that marks the iconic corridor.
His Corbet Trophy, a psychedelic buffalo skull, is on display at Johnny G's Sandwich Shop in Ketchum.
To top it off, Alex's brain cancer is in remission.
A real local
Fostvedt, who is 31, is about as local as a guy can get. He was born at Moritz Hospital in Sun Valley. He is the son of local veterinarian Dr. Karsten Fostvedt of St. Francis Pet Clinic in Ketchum and Teri Fostvedt, who currently lives in Salt Lake City and works as a nurse.
Fostvedt rose through the ranks of the Sun Valley Ski Education Foundation mogul team and it was during this time as part of the SVSEF mogul team that the nickname "Crazy" Karl was born. He was the youngest skier on the team and did the jumps for the older skiers. A few coaches came up with the nickname and it stuck.
Fostvedt then spent his freshman and sophomore years in high school at Steamboat Mountain School in Steamboat Springs, Colorado, and that's when he was exposed to a new world. While in Colorado he was introduced to a more developed freeride program and was won over. He was drawn to snow parks and street skiing, often trading alpine slopes for urban features.
Fostvedt returned to Idaho for his junior and senior seasons. At Wood River High School, Fostvedt embarked on another love: cinema. He thanks multimedia professor Chet Olson for showing him the way of cinema, photography and editing. For his high school project, he designed a snow park for Sun Valley Resort.
He eventually changed his name and embarked on great mountain and off-piste skiing adventures. ("I can always slide a rail," Fostvedt added.)
However, his ability to send him into dangerous atmospheres allowed him to keep the nickname "Crazy" Karl. For some, the nickname may have negative connotations, but Fostvedt says that's a misinterpretation.
"The reason I have this nickname is because of my drive and motivation," he said.
After high school, Fostvedt went to the University of Utah in Salt Lake City where he met his girlfriend, in a ski movie no less. He's been with Sierra Kurian for eight years.
While studying architecture at university, he comes to a crossroads with his future: school or skiing.
"I was about to throw in the towel and thought my dream was over," Fostvedt said. "I knew I wasn't going to be able to ski and go to architecture school at the same time.
Poor Boyz Productions changed everything. They saw an in-line ski montage from Fostvedt and asked him to accompany them on a shoot. He quickly changed his major from Architecture to Environmental Sciences, which allowed him to keep an open ski schedule.
"Things started to snowball after this trip with Poor Boyz," said Fostvedt, and at age 21, he won the "Rookie of the Year" award at the 2012 International Freeski Film Festival. In 2013, it was nominated for a Powder Magazine Award for best artificial air. The following year, he won the Under Armor War of the Rails at Bear Mountain. And in 2018, he won a Corbet crown, winning the Kings & Queens competition for the first time.
Heavy is the head
From there, the ride didn't slow down. After a short time surfing in Mexico with the Gem State Surf Club – a collection of friends who surf as soon as the snow dries up, swapping ski boots for sandals – Fostvedt began setting up his own production company, Native Earth. Productions. This year, Native Earth released Fostvedt's first ski film, "BrapSki — Volume 1".
The film was a community effort. Close friend Jasper Newton was in cinematography, and Fostvedt hired fellow filmmaker and Ketchum mayoral candidate Spencer Cordovano and local tech guru Sophie Maltby to produce.
Hank Minor, the owner of Apple's Bar & Grill at the foot of Warm Springs, gave Fostvedt his first $ 500 to start the movie. Minor 's money turned into a $ 50,000 Kickstarter campaign and Fostvedt was on his way to filming.
The film, which premiered at The Argyros in Ketchum on October 7, garnered rave reviews and showcased Fostvedt's directing talents. Shifting from risk-taking athlete to filmmaker, Fostvedt experienced new fears he didn't see coming. He said showing a movie in a crowded theater is one of the scariest moments of his life, despite his career passing through and doing 360 laps on avalanches.
"I'm a little more comfortable this year with the microphone," said Fostvedt.
Shot on location in Idaho, Washington, Alaska, Montana, Wyoming and Utah, the film features two of Fostvedt's passions: snowmobiling and skiing.
The crew used drones to capture footage, which was cut into a 25-minute final cut.
The film features WingTai Barrymore, McKenna Peterson, Collin Collins, Harlan Collins, Dirt Franco, Matt Guyer, Barrett Cincotta, Lexi duPont, Thayne Rich, Blaine Gallivan and Olympian Chase Josey.
"It was a great opportunity to work with local athletes and create a film with a team that has had a lot of ski chemistry together for over 20 years now," said Fostvedt.
There are plans to make the series a trilogy before moving on to new projects. "BrapSki — Volume 2" is currently to be determined.
"I think I put too much pressure on myself," Fostvedt said. "But I'm glad I did, because now it's going to be easier for us to release a movie from now on. We have a foundation. It was one of those years when I just put my head down and worked hard. It was stressful and everything just happened. Looking back, it was one of the best years of my life.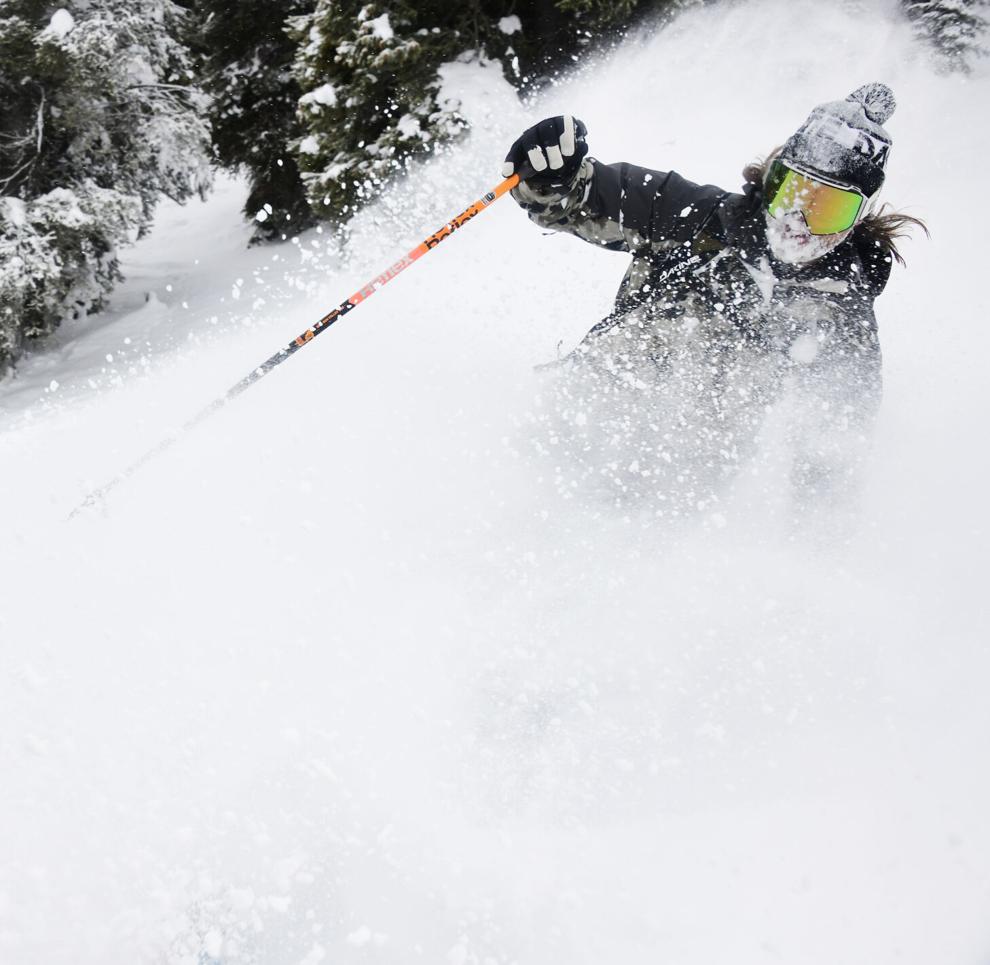 It was only a dream
For Fostvedt, releasing his first ski movie was a childhood dream. As the little carnation himself, he remembered going to see Teton Gravity Research and Matchstick Production films in the former nexStage theater in Ketchum, where The Argyros now resides.
He lived through the times when he and his friends met their favorite professional athletes, sharing memories, taking photos and getting autographs. These ski stars paved the way for Fostvedt and his comrades, which he always wanted to do when he got the chance to release his film. Being a mentor – or, as he put it, an "uncle" for the new generation – is something he has strived for.
Fostvedt always gives time to young skiers who are fans. For them, he is part of the old guard of skiers, like the athletes who paved the way for him. In many ways, it bridges the generation gap. He understands the old-fashioned skier code, but with a youthful avidity where children find solace and inspiration.
Fostvedt says he couldn't have done it alone. He thanks his older brother, Stephen, for being his biggest fan. And Collin Collins, a longtime mentor who has become a longtime friend.
"He's been my best friend for 20 years," Fostvedt said of Collins. "It all started when I admired him. He was the one who showed me all the ski movies at the time.
Collins, Barrymore, Cincotta and Josey are all part of the same generation of skiers and snowboarders who grew up together, trekking Bald Mountain at the same time.
"I love Bald Mountain," he said. "I love this place."
And this place loves him back. ??
[ad_2]