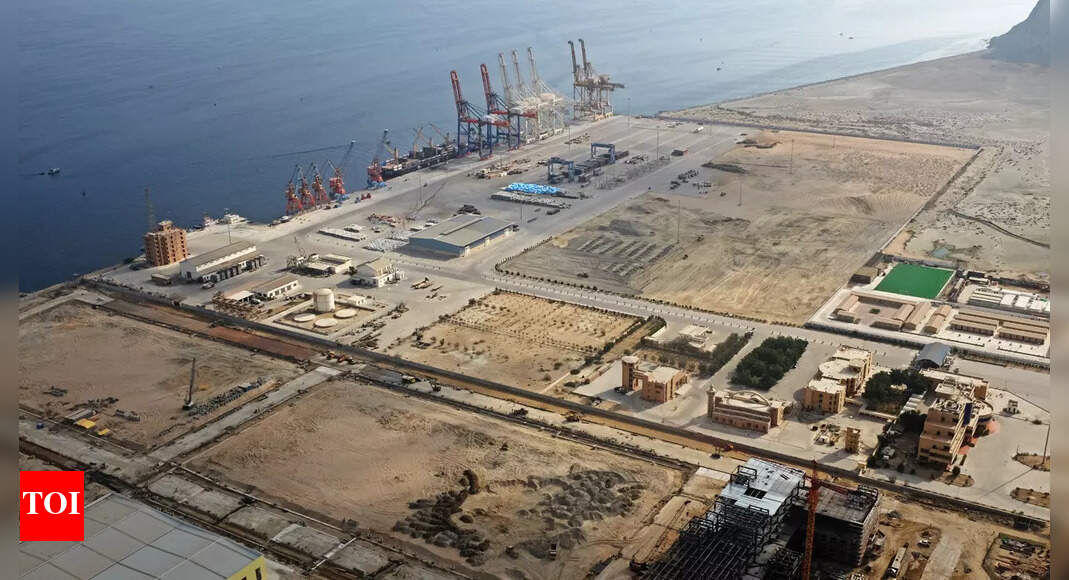 In 10 Charts: How China Burdened Poor Countries With Massive Debt, "Buyers' remorse"
NEW DELHI: China has burdened poor countries with "hidden debt" worth $ 385 billion thanks to its strong push for Belt and Road Initiative (BRI) projects, study finds recent.
The study by the international development research laboratory AidData showed that almost a third of all projects under the BRI are marred by alleged scandals and manifestations of corruption.
"A growing number of policymakers in low- and middle-income countries are putting large-scale BRI projects on the back burner because of overpricing, corruption and debt sustainability issues," said Brad Parks, one of the authors of the study.
Chinese funding & BRI
ODA = Official development assistance; OOF = Other Official Feeds
The AidData study examined 13,427 Chinese-supported projects in 165 countries over 18 years, worth a total of $ 843 billion, and noted that Beijing's annual international development funding commitments are now double that of those of the United States.
Research found that between 2000 and 2017, China funded more than 10,000 infrastructure projects around the world, with a focus on Africa and Asia.
The BRI, which was launched by President Xi Jinping in 2013, has so far been largely concentrated in Asia and Africa.
The study found that Pakistan, with projects worth more than $ 27 billion, is China's largest BRI partner, followed by countries like Kazakhastan and Indonesia.
Public risk
Parks said the Chinese loans were made to a "constellation of actors other than central governments," but often backed by a government guarantee of repayment if the other party could not.
"The contracts are obscure and the governments themselves do not know the exact monetary values ​​they owe China," he said.
These under-reported debts are worth around $ 385 billion, according to the study.
When it comes to debt risk, Laos is in a class of its own, with exceptionally high levels of sovereign debt exposure at 29.4% of GDP and hidden debt exposure of 35.4% of GDP. GDP to China.
In terms of money, Pakistan has the highest exposure to sovereign debt of nearly $ 25 billion.
Controversies
The survey also found that 35% of Belt and Road projects were grappling with corruption, labor law violations, environmental pollution and public protests.
Most of the scandalized projects are in places like Pakistan, China's all-time ally.
No less than 10 multi-million dollar projects in Pakistan have encountered some type of scandal, controversy or alleged violation during implementation.
Additionally, in Pakistan, resentment has also been fueled by high levels of Chinese money flowing into places such as Balochistan, where locals say they get little benefit and activists have launched a series of attacks aimed at undermining Chinese investments.
Cancellation & delays
AidData said $ 11.58 billion worth of projects in Malaysia were canceled over the period 2013-2021, with nearly $ 1.5 billion canceled in Kazakhstan and more than $ 1 billion in Bolivia.
"What we're seeing right now with the Belt and Road initiative is buyer's remorse," Parks said.
"Many foreign leaders who were initially eager to get on the BIS train are now suspending or canceling Chinese infrastructure projects due to debt sustainability issues," he said.
As an example of one such project, Vietnam's first elevated railway line to Hanoi suffered years of delay with an inflated budget of over 60% of the original cost, Radio Free Asia reported citing a study by AidData.
"Host nation policy makers are putting these high profile BRI projects on the back burner due to issues of corruption and overpricing, as well as major shifts in public opinion that make it difficult to maintain close relations with China," said Brooke Russell, Associate Director at AidData and other report co-authors.
Meanwhile, the study also said that such "delays" in projects could be part of Beijing's debt trap strategy.
"Beijing seeks to finance projects in countries at risk than other official creditors, but it is also more aggressive than its peers to position itself at the top of the repayment line (via the guarantee)," AidData added.
Against China
Meanwhile, the G7 countries have also announced a rival plan to counter Beijing's dominance in global lending this year. The G7 includes the United States, United Kingdom, Canada, France, Germany, Italy and Japan.
In June, the United States announced the rival initiative known as Build Back Better World (B3W) to provide financial support to developing countries for building infrastructure.
"B3W will increase choice in the infrastructure finance market, which could lead to high-profile defections from the BRI," Parks said.
(With contributions from AFP, Reuters)