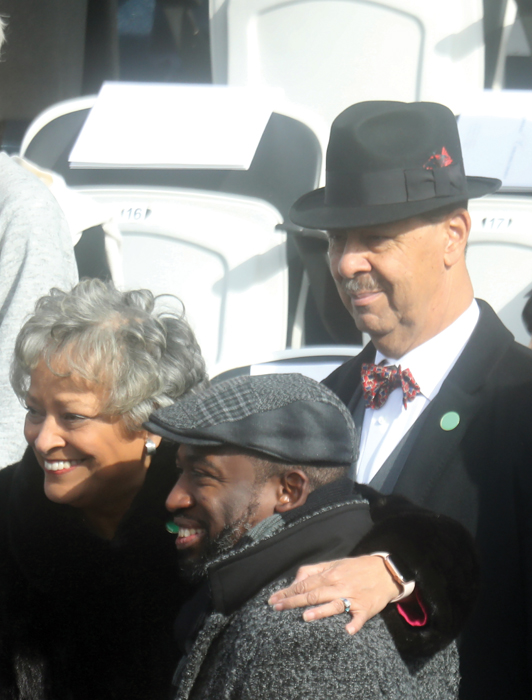 3 people of color in Youngkin's cabinet | Richmond Free Press
Gov. Glenn A. Youngkin began his new job this week promising bold steps in his "movement" to reverse the political agenda of the past decade and put state government back on conservative wheels.
He also named three black people to his 13-person cabinet. All candidates must be approved by the General Assembly.
Hampton University graduate Kay Coles James has been appointed Commonwealth Secretary.
A staunch Republican who served as Secretary of Health and Human Resources under former GOP Governor George Allen, Ms. James was appointed by former President George W. Bush to head the U.S. Office of Labor Management. staff from 2001 to 2005.
Ms James, who last year organized a group aimed at energizing black people to get vaccinated against COVID-19, stepped down in late December as chair of the Heritage Foundation, a well-known conservative think tank in Washington, DC. member of Governor Youngkin's transition team.
Ms. James is expected to escort Governor Youngkin through the halls of Washington, where she has worked with lawmakers and policymakers for more than a decade.
Governor Youngkin also appointed Craig Crenshaw, a retired Marine Corps major general who specializes in logistics, as secretary of veterans affairs and defense affairs.
A native of Pensacola, Florida, Major General Crenshaw is president of Stafford-based Claxton Logistics Services.
He received a bachelor's degree from Southern University in Louisiana and a master's degree from Webster University in St. Louis and the Eisenhower School for National Security and Resource Strategy.
On Wednesday, Governor Youngkin appointed Angela Sailor to serve as Virginia's chief diversity, equity, and inclusion officer, a cabinet position created by her predecessor, former Democratic Governor Ralph S. Northam.
Ms Sailor served as Ms James' Chief of Staff at the Heritage Foundation. She spent 20 years working on Capitol Hill and the White House, and previously held positions at John Deere, NASCAR, Wells Fargo, Proctor and Gamble and BET.
She attended Spelman College and graduated from Central State University in Ohio. Ms. Sailor also holds a master's degree in broadcast journalism and public affairs from American University and a law degree from the University of Memphis.
One of Governor Youngkin's appointees, Andrew Wheeler, as Secretary of State for Natural Resources, has come under fire from environmental groups for his views and positions downplaying the pressing threats of climate change.
A former experienced US Senate lawyer on environmental issues, Mr. Wheeler has been a lobbyist for the coal industry. He was President Trump's former administrator of the US Environmental Protection Agency. More than 150 former employees of the federal agency sent a letter last week to the state Senate urging them to reject his nomination.
As secretary of state, he would oversee conservation policy, climate change, Chesapeake Bay restoration, and several agencies, including the state Department of Environmental Quality, which handles environmental permits, monitoring and inspections.
Governor Youngkin has been a staunch opponent of rigid environmental protection rules.
The firm's other nominees include:
Administrative Secretary, Lyn McDermid; Secretary of Agriculture and Forestry, Matt Lohr; Commerce and Trade Secretary, Caren Merrick; education secretary, Aimee Guidera; Finance Secretary Stephen E. Cummings; Health and Human Resources Secretary John Littel; labor secretary, G. Bryan Slater; Public Safety and Homeland Security Secretary Bob Mosier and Transportation Secretary Sheppard Miller.
Governor Youngkin also named attorney Richard Cullen, a former Virginia attorney general and former president of the McGuireWoods law firm, as his lead attorney. A staple of Virginia politics who has worked with political leaders for several decades, Mr. Cullen has worked with clients including former Vice President Mike Pence and Elin Nordegren, the golfing superstar's ex-wife Tiger Woods.